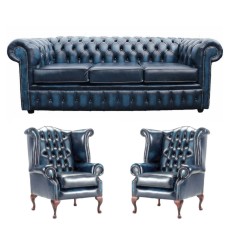 Chesterfield sofas are renowned across the world for their high quality manufacture and the class they exude. That alone is reason enough to choose a Chesterfield sofa, but we'll look a bit further into why you should choose a Chesterfield not just for their style, but for the design and build of the famous furniture.

Here at Zest Interiors we source our Chesterfield sofas from trusted local suppliers in Lancashire. Each Chesterfield they manufacture boasts a solid beech frame which provides outstanding strength and durability for years to come, and helps to maintain the sturdy shape that Chesterfield are famous for.
Chesterfield Sofas Exude Luxury and Class

A variety of materials are used to create the luxury looks and feel which provides you with a comfortable seat, while the various densities of foams used in the creation of a Chesterfield sofa is applied to the frame and scored with button holes in preparation for upholstering. Chesterfield sofas can contain up to 150 buttons which are sewed on manually, so this can be a labour intensive process. However, the stunning result is worth the work, which is why Chesterfield sofas far surpass other manufactured models in terms of quality and design.

Once this is completed the finishing touches are applied – such as the front border and facings – and the sofa is ready to be despatched. Because of the manual work involved in the production of a Chesterfield sofa, we cannot guarantee a specific timescale for your sofa to be ready but we will keep you up to date as we receive updates.

Handmade to Perfection…

We offer a selection of Chesterfield sofas at Zest Interiors, and with a varied choice of colours to choose from we're confident you'll be able to find your perfect sofa from our collection. If you would like more information about Chesterfield sofas please don't hesitate to contact us on 0800 085 1422.