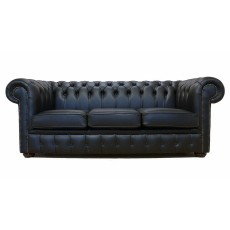 There's no sofa quite like a genuine Chesterfield sofa. The high quality hand finished leather and unmistakable features of Chesterfield sofas not only ooze luxury and elegance – they provide unsurpassed comfort for years to come too.

At Zest Interiors, we're incredibly proud to offer our customers a selection of deluxe Chesterfield sofas including 2 seater and 3 seater models, Chesterfield sofa beds and the iconic Chesterfield Chairs: the Queen Anne and the Club. Chesterfield sofas demand only the best which is why each sofa is hand crafted by respected local craftsmen to the highest standard; hard wood frames are glued and stapled for solidity and foam cushions provide serious comfort for when you're relaxing. All these components are covered by the finest quality genuine leather which is then finished for a smooth, sheer look that boasts luxury and complements any surroundings.

Luxurious Genuine Chesterfield Sofa Beds

2 seater and 3 seater Chesterfield sofas are a common fixture in homes, hotels and luxury establishments, while the Chesterfield sofa bed is much more uncommon. You'll be hard pushed to find a Chesterfield sofa bed at the same fantastic prices as ours – or the same comfort. Chesterfield sofa beds are ideal for catering for those last minute or unexpected guests, folding out into a luxurious metal framed, 4ft 6inch bed with a 2 inch thick mattress that will provide a comfortable night's sleep for anyone at the drop of a hat. Available in 6 stunning colours – oxblood red, green, blue, brown, black or white – these Chesterfield sofa beds are the perfect addition to your living room.

The Best Value Chesterfield Sofas!

Genuine leather Chesterfield sofas from Zest Interiors provide superior comfort and luxury for a price you wouldn't expect, with no compromise on quality. With a fantastic selection of genuine Chesterfield sofas available, we're the number one choice for luxury, quality and value in the North West – so why not come and pay us a visit?

Have a browse of our sofa showroom or shop online for nationwide delivery; either way, you'll get a fantastic price and excellent service.